Course Details
This training course is conducted on client premises to allow operators to use a specific Tow Tractor.

Course Duration
1 – 3 days depending on experience.
Maximum of 4 trainees per course
Course Objectives
After this training course the operator should be able to: –
Demonstrate an understanding of the rated capacity of a Tow Tractor.
Carry out a pre-use inspection.
Able to operate safely under varying site conditions.
Travel (forward and reverse) with laden and un-laden trailers.
Demonstrate an understanding of operator's responsibilities & relevant legislation.
Operate the machine safely and correctly in accordance with manufacturers instructions
Course Content
Relevant regulations & legislation
Introduction to machine controls and instruments
Weight assessment & tow capacity
Tow Truck Stability
Components and main types of tow tractor
Limitations of use
Emergency controls
Hitching & un-hitching trailers
Handling laden & un-laden trailers
Re-fuelling procedures
Pre-start inspection & maintenance
Driving in confined areas
Certification
Successful candidates will be issued with a BB TRAINING SERVICES certificate.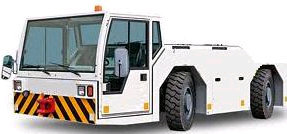 Tow Tractors are usually associated with the movement of aircraft and therefore training usually takes place on site at the clients location, with the clients equipment.